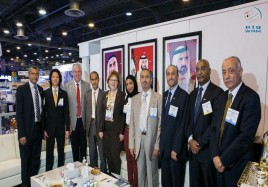 Houston, 3rd May, 2016 (WAM)ADNOC & Group Companies are making their presence felt at the Offshore Technology Conference and Exhibition (OTC 2016) which opened in Houston, Texas, USA yesterday.
A high level delegation, from ADNOC and its diverse group of 21 subsidiaries is taking part in this global foremost event for the development of offshore resources.
The company is exhibiting in a state-of-the-art stand that is designed to represent the UAE's unique heritage and reflect the size and image of ADNOC & its Group of Companies.
Barbara A. Leaf, the Ambassador of the United States of America to the United Arab Emirates, took part in the ceremonial ribbon cutting at ADNOC stand, in presence of Kholoud Al Shamsi, the UAE Acting Consul General in Texas; Ali K. Al Shamsi, Director of Strategy and Coordination, ADNOC; and Saif Ahmed Alghfeli, CEO of Al Hosn Gas. A number of senior executives from ADNOC Group in addition to UAE delegates also attended the opening ceremony.
On the opening day, ADNOC stand attracted many visitors from different multinational companies from around the world who were briefed on the company's current and future projects and plans. An interactive intelligence 3D Model "Engineering Information Management System" provides all related information in context. The system, which has been adopted for the first time by ADNOC Group Company "ADMA-OPCO" helps in decision support for the offshore areas.
On the sidelines of the OTC, ADNOC hosted a dinner in honor of OTC participants. It was attended by UAE delegates, senior Shareholders representatives, ADNOC delegates and other guests from different sectors based in Houston.
ADNOC delegates also attended a dinner hosted by the Bilateral US-Arab Chamber of Commerce where they had the opportunity to network with senior US executives and top level executives of leading energy companies.
American companies taking part in OTC 2016 have been invited to participate in the Abu Dhabi International Petroleum Exhibition and Conference (ADIPEC 2016), scheduled to be held on November 7-10.
Participating under the theme "Driving a Sustainable Future through People & Innovation", ADNOC & Group Companies are showcasing their full line of business and services to provide details of their ongoing and future projects with the aim of exchanging expertise, sourcing the latest technological developments and availing of the opportunities offered by the event to create new business partnerships.
ADNOC's delegates are taking part in the conference and other sideline events to share insights, gain technical knowledge, stimulate debate and network with experts from around the world.
As part of its efforts to adopt proven new technologies in all of its operations, ADNOC seeks to meet the ever-increasing challenges in the field of operations with new innovative ideas, new technologies, new processes as well as smarter and cleaner applications.
The Group endeavours to utilize all available technologies and resources to enhance oil production capacity and at the same time deploy best reservoir management schemes to ensure and safeguard controlled depletion of the oil reserves.
A fully integrated oil and gas company that ranks amongst the world's biggest 10 energy giants, ADNOC has 21 subsidiary companies, with operations covering all aspects of upstream and downstream processes in the energy industry.

©WAM/tfaham
03 May 2016